Due to unforeseen circumstances encountered in the preparation of the concert, we are regret to announce that "KANGDANIEL CONCERT FIRST PARADE IN MACAO " which originally scheduled on 1st April 2023, 8 pm, at Cotai Arena, The Venetian Macao will be cancelled.

Please note that all internet and credit card transactions through Cotai Ticketing channels will be refunded automatically. For tickets purchased from other channels, please contact the original point of purchase for refund.

We sincerely apologize for any inconvenience caused of this cancellation. If you have any inquiries, please contact organiser via email or our official social media.

Stay tune on all the upcoming announcement through our official social media platform. We would like to express our sincere gratitude for your continued support.


K-pop star KANGDANIEL launched his 'FIRST PARADE' world tour in 2022, and this year the tour has continued in Malaysia, the UK, France, Germany, Singapore, the US and Canada. On april 1, 'KANGDANIEL CONCERT FIRST PARADE IN MACAO' will be staged at The Venetian Macao's Cotai Arena, marking his first appearance as a soloist in Macao since his debut. The performance, mixing exuberance and intensity, will bring a night of spectacular entertainment and dazzle DANITY – KANGDANIEL's adoring fans!

Ever since he came first in the Korean talent show 'Produce 101 season 2' and became the center of the project boy group Wanna One in 2017, KANGDANIEL has become a popular idol in the K-pop scene. After debuting as a soloist in 2019, he has been active in various fields such as film, TV and music. His debut mini album 'Color on me' sold over 500,000 copies and was certified double platinum, followed by 'MAGENTA', 'YELLOW' and 'The Story' albums, each of which sold over 300,000 copies.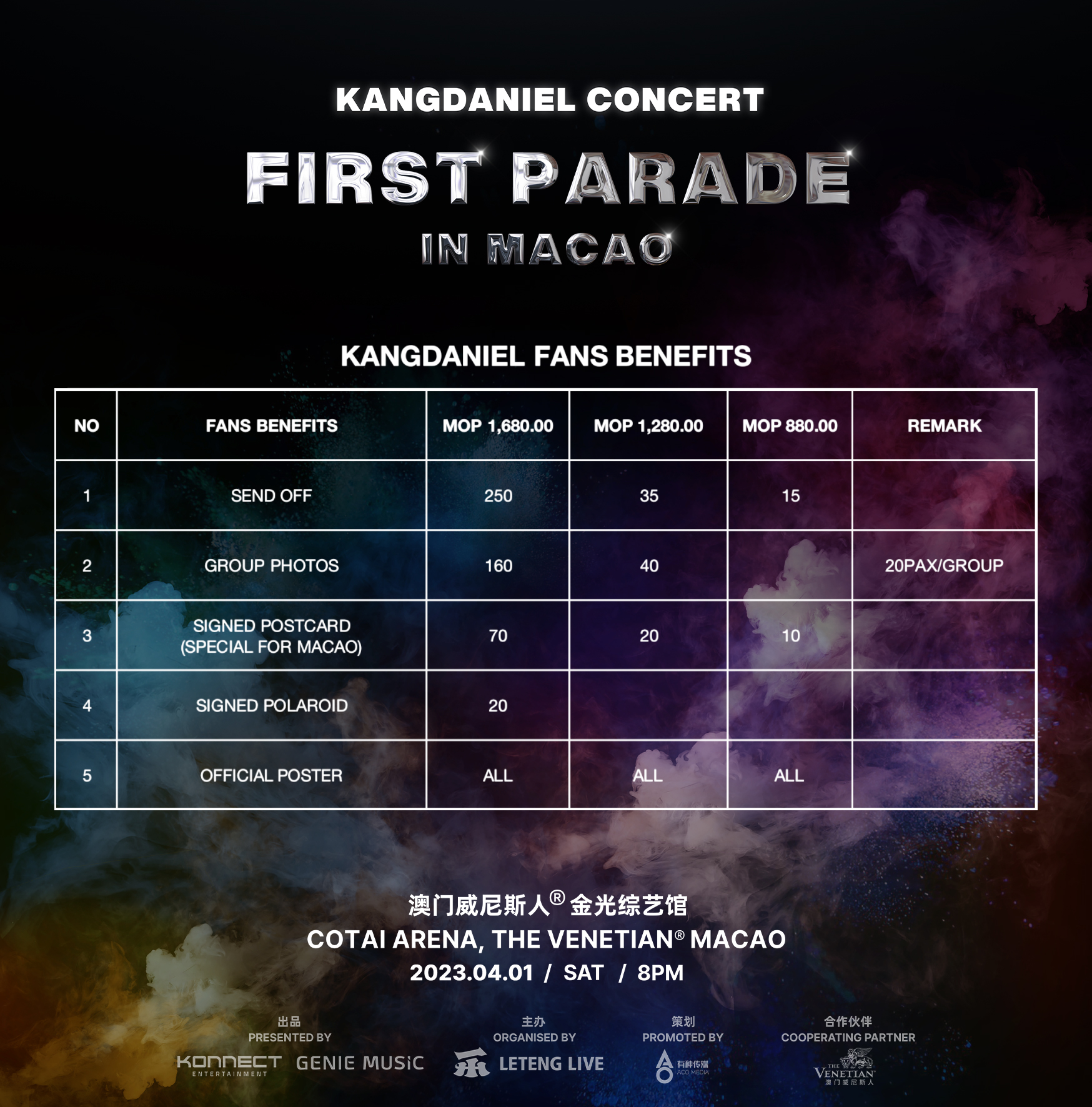 Enrollment method of fan benefits (Send Off/Group Photo/Autographed Postcard/Autographed Polaroid) will be announced 1 week before the show day. Please stay tuned!
Arrangements of fans' benefits of this event will be adjusted in accordance with prevailing disease prevention policies as promulgated by the Government.
The Organizer reserves the right to terminate the event or revise its details.
People with flu-like symptoms such as fever, muscle pain, sore throat, cough or runny nose, must wear a mask.

Ticket limit = 8 tickets per transaction. Transactions exceeding the applicable ticket limit may be cancelled without notice by Cotai Ticketing at its discretion. This includes duplicate transactions having the same name, billing address or credit card. Ticket limit may not be applicable to some special offers.

Please contact Cotai Ticketing for any enquiries.